Insights into the future of BSS revealed by the telecoms.com Annual Industry Survey 2019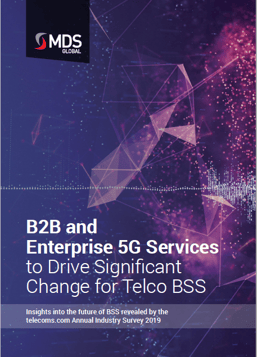 Each year, telecoms.com conducts its Annual Industry Survey, in which it asks telco professionals across the globe to answer questions on a range of topics including 5G, digital transformation, IoT and BSS/OSS. MDS Global sponsored and provided the questions for the BSS/OSS section of the 2019 survey.
In this paper, we dig into the findings of the survey, exploring four key themes that summarise the industry's thoughts on B2B revenues and business requirements in 2020 and beyond, as revealed by this survey:
1. B2B outweighs B2C for revenue targets for 5G ROI
2. Separate B2B and B2C stacks are essential
3. CSPs need to offer SOHOs and SMEs digital control and self-order management
4. Virtualised services will trigger major BSS change
Complete the form to download this whitepaper.