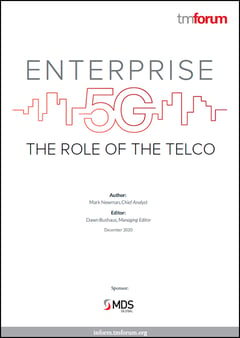 For the first time, the mobile communications industry is prioritizing the enterprise market. For more than 30 years, its main focus has been on serving individuals and consumers, but 5G is changing the target. Now mobile operators and their suppliers believe there is more potential for revenue growth in serving enterprises than consumers.
Download this TM Forum report, supported by MDS Global, to learn:
Which services operators may be able to provide beyond connectivity
How CSPs are positioning basic 5G services in the B2B market
Why 5G is beneficial to enterprises and why some IoT use cases need 5G
When 5G-enabled IoT services will become available
Analysts' forecasts for 5G enterprise revenues
Why enterprises are turning to mobile private networks and what this means for mobile operators
Complete the form to download this free report.