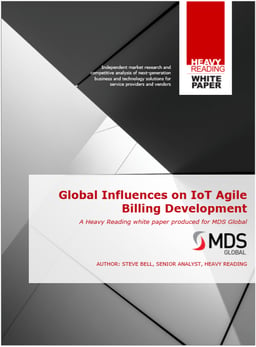 In collaboration with Heavy Reading, MDS Global conducted a survey of 110 Communication Service Providers (CSPs) across the globe, probing their current and future strategies for Internet of Things (IoT) billing and monetisation. Based on the findings of the survey, Heavy Reading have produced a whitepaper which outlines why the strategic approach taken by global CSPs to launch IoT services is proving important when shaping the development of propositions, specifically regarding the billing of IoT services.
As the diversity of IoT applications increases and the number of partners in ecosystems grows, CSPs will need to adopt new business support systems (BSS) to move beyond being just a connectivity provider, and into the functional role of lead enabler.
Complete the form to download this whitepaper.