Analysys Mason Whitepaper: Telco technology transformation key to effective monetisation of enterprise opportunities.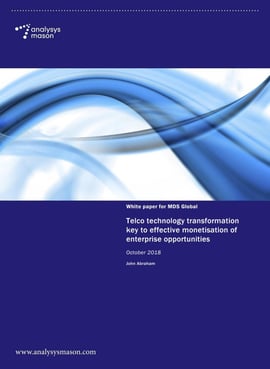 Analyst author: John Abraham
Date: October 2018
Over the past two decades, communication service providers (CSPs) have focused on the consumer side of their businesses. However, changing customer preferences, competition from over-the-top (OTT) providers, and adverse regulatory environments have pushed CSPs to focus on new revenue streams, such as B2B, 5G, Internet of Things (IoT) and cloud-based technologies.
Read the whitepaper to learn how Analysys Mason see the market evolving, and understand how MDS Global maximise their customers' growth through their BSS-as-a-Service solution.
Complete the form to download this free whitepaper